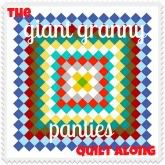 So let me break my almost radio silence to say that I'm excited to be participating in a quilt-along through one of my favorite bloggers, Jennifer of
That Girl...That Quilt
. I hadn't planned to participate, since I have a large stack of projects on my list, but then I saw the kits that she had made with the gals at
Sew Lux fabrics
, and I was completely taken with the Vintage Cool kit, so I took the plunge. My fabric has already been delivered, washed, and ironed, and I am ready to go! My goal is to actually keep up with the quilt-along, while also finishing the quilt that I started during Jennifer's last quilt along, called Chasing Chevrons. More details and pictures to follow as things get moving!
I also thought I should post a few pictures of things I've been working on lately:
I'm one seam away from having the front of my brother's duvet cover completed. Right now, I'm working on tying off all the threads and burying them in the batting, and then I'll do the final seam to join my four quadrants. On the back, I still need to quilt some larger areas of fabric, but the pieced portion is done and quilted. My goal is to finish this up by the end of September, so it will be ready for them for fall and some hopefully cooler nights in Athens, GA.
I'd pieced this little zig-zag quilt top awhile ago, but I finally got backing fabric (when I ordered my granny pants quilt kit from
Sew Lux
, they had some end-of-bolt clearance on the center green flower print, so I decided to go with a solid back on this one and get it quilted. Since this picture was taken, I've made a bias binding in Kona pomegranate and applied it, so if I can find my thimble, it will be complete very soon.
My friend and colleague, Kakuti, is having her first baby in November, so I thought I'd get going early on a quick baby quilt for her. This was a charm pack of Half Moon by Moda, plus some other squares of black-and-whites from my stash. Here it is on the design wall (and you can see a bit more of my sewing nook!)...
And here it is as a finished top:
The design is, in concept, similar to a quilt top I made last year for
100 Quilts for Kids
from a design by
Made by Rae
. Katie, of
Swim, Bike, Quilt
fame, had come up with new measurements for using a charm pack. I didn't look at the instructions before cutting my sashing, and I cut a bunch of 2.5" strips. Sadly, they needed to be 2.75", but it gave me an opportunity to do a little problem-solving, and now I have a quilt that has some slight rectangles in it, and the sashing strips are different sizes. The inner and outer red rings are 2.5", white the middle ring is 3". I actually think it makes it more interesting than the original, so I'll probably plan to do this (perhaps even with a wider disparity) next time. I also may make something like this with a larger central square. The joys of charm packs - there are only so many ways to put them together!
And here's the back of Kakuti's quilt:
I really love those huge polka dots. I'd bought the large butterfly print for the back for my version, but those dots are hard to beat!
Finally, I put together a little improv quilt that I started at the most recent DC Modern Quilt Guild meeting. I really like assymetric quilts, and I had fun figuring it out (though it might have been easier had I made an actual plan instead of just cutting and sewing!)
I've pieced an improv back for this one, too, though I didn't take a picture yet. Yes...I have been busy! I also completed 2 quilts, but I'll save those for another day!
Finally, I'm excited to say that I'm going to QuiltCon! I hadn't planned to, but I mentioned it to my wonderful husband, who has been wanting to visit Austin, and he thought we should go! (I should clarify...during the day I'll be drinking the Kool-Aid on Modern Quilting at QuiltCon while he explores the city, but in the evenings, I'll drag myself away from all the blog friends that I'm excited to meet in person to go eat wonderful dinners and see a bit of Austin.) I'm so happy that he encouraged me to register, as I'm already really excited about it, and I've only been registered for an hour! Please leave me a comment if you are going to be there so we can meet up!